If you would like your Homeowner Association listed on this page or have updates to current information, click on the button.
Recently, a new social network was created specifically for neighbors to connect and stay informed. Nextdoor.com offers the opportunity to create a private social network for your neighborhood - free of charge. You can share neighborhood activities, provide contractor advice, highlight association news, list school information, and more. The site encourages interactive two-way communication, much like Facebook.

While the City has no affiliation with Nextdoor.com, we wanted to share this service with our Homeowner Association leaders. The Nextdoor.com site offers a 90-second overview video and easy instructions to get started.



Novi Subdivision Map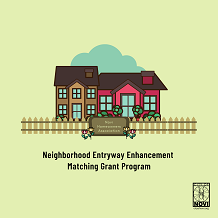 The Neighborhood Entryway Enhancement Matching Grant Program was established by City Council in 2015. The purpose is to provide funding assistance to City of Novi Homeowners Associations to support their efforts to enhance their neighborhoods through high-quality, sustainable entranceway beautification projects and to benefit and enhance the Novi community. These projects must be intended to beautify an entrance through significant and permanent physical improvements, including adding/modifying entrance signs, constructing flower beds, planting trees, and installing other related entryway improvements.

2024 Grant Program Dates

January 26, 2024 by 5:00pm - Completed applications are accepted
February, 2024 - City staff reviews applications
March 13, 2024 - Beautification Commission meets and reviews applications and any staff comments
April, 2024 - Recommendations by the Beautification Commission are made to City Councill City Council awards grants.
October 31, 2024 by 5:00pm - Project completion date; the entire project must be completed or reimbursement/grant award will be forfeited.




2024 Grant Program Guide and Application


Residential Entranceway Signage Guide