The Operations Division responds to all emergencies and other calls for police service with uniform staff.  This division has primary responsibility for the enforcement of state laws and local ordinances, traffic enforcement, preliminary case investigation, arresting offenders and prisoner processing.  In addition, the Operations Division is actively involved in the community, attending homeowner meetings, working with our schools, and partnering with our citizens and businesses.  The mission of the uniformed officers in the Operations Division is to continue to work hand in hand with our residents, businesses and visitors, in order to minimize criminal activity and traffic related injuries, and maintain the exceptional quality of life that Novi has to offer.
Bike Patrol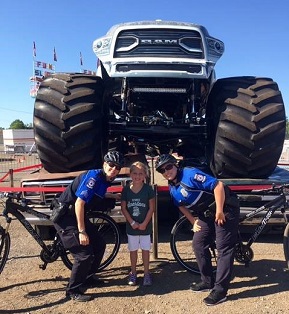 The Novi Police Department has an established bike patrol unit with the following goals:
To equip and train assigned personnel in police bicycle patrol techniques
To continue to enhance our mission of partnering with our citizens, businesses and visitors in furtherance of our Community Oriented Policing philosophy.
Have officers more closely interacting with members of the community without the barrier of a vehicle
To promote bicycle safety to all children within the City of Novi
In a proactive unit, much of the success is gauged by the feedback that is received.  The unit is comprised of several police officers and police sergeants who have received the specialized training in operation of the bicycle, community engagement, law enforcement and bicycle safety and maintenance.  The bike patrol unit has received positive feedback from the community, and has had the opportunity to participate in school and neighborhood functions, child safety events, and preventative patrols in retail areas.  By community standards, the Novi Police Department Bicycle Patrol Unit has been and continues to be a tremendous success and positive method for community interaction.
Field Training Program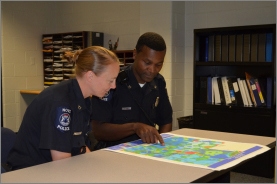 The Novi Police Department utilizes a nationally recognized Field Training and Evaluation program for all new police recruit officers.  This program introduces and trains the new police recruit officer on the skills, duties and responsibilities required to perform as a certified police officer for the City of Novi. Before starting the Novi Police Department field training program, all recruit officers must first be certifiable by the Michigan Commission on Law Enforcement Standards, which generally involves successful completion of a police academy and State recognized testing process.

Only the finest police officers are selected to serve as field training officers in the program.  The selected officers who conduct the training have demonstrated their problem solving ability and community involvement by working with local residents and community business leaders throughout the City of Novi.

During the intense field training program, the recruit officer is introduced to community policing philosophy that is the cornerstone of Novi Police Department policing.  Training in solving core social problems, building proactive partnerships with civic groups, citizens and businesses, and community engagement.  Field training encourages recruit officers to "think outside the box" when solving social issues that cause concerns for the community, including the use of outreach and diversion options for offenders in appropriate cases, and connecting people to community resources where there may be a mental health component involved or other need.

Recruit officers who successfully complete the training program will be certified for a solo patrol position.  Throughout their career, their performance and career development are monitored by patrol sergeants, who work with them to ensure that the Novi Police Department continues to deliver exceptional policing services in our community.
K-9 Program
The Novi Police Department K-9 program was established to support patrol operations and investigations.  The police K-9 is not only capable of detecting dangerous controlled substances, such as heroin, but also tracking of suspects, lost children or others in need of being located who may have special needs.  The K-9 officers frequently will visit Novi Parks in the summer to meet with citizens and children, in order to educate them about the program and police department.  There are many requests received each year from local schools, homeowners associations, and local community events for demonstrations and education.  The positive relationship that the K-9 program has facilitated with the community has been invaluable.
| | |
| --- | --- |
| Officer Stacey Simon & K9 Becker | Officer Michael Daisley & K9 Diesel |
Motorcycle Unit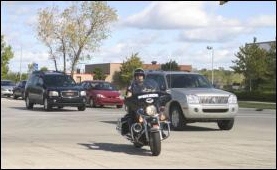 The Novi Police Department has a police motor unit that currently utilizes Harley Davidson motorcycles for general patrol use, traffic enforcement and special details.  The motorcycles are outfitted with emergency lights, a siren, a police radio, and other specialized equipment that assists them in carrying out their function each day.  The officers selected for this unit undergo an intense 80-hour training course, where they learn how to safely maneuver the motorcycle through tight turns, high speed operations, controlled braking, obstacle avoidance, and proper low and high speed techniques necessary for patrol operations.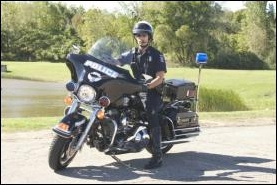 Being on a police motorcycle allows Novi Motor Officers to quickly gain access that may be inaccessible to patrol cars, such as park areas and trails, as well as being able to respond to situations in heavy traffic without the delays that this slow or stopped traffic can cause.  Patrolling on the motorcycle has also allowed officers to enhance positive community contacts with members and visitors to the community.

The Novi Police Department Motor Unit has been a great addition to the Novi Police Department and a useful tool in enhancing our Community Oriented Philosophy.