Villa Barr Art Park
22600 Napier Road



Villa Barr Facilities Landscape Map
Click here for a sculpture tour of the park
Download Tour to your Phone:

Click here for a botanical tour of the park
Download Tour to your phone:


On Friday, June 9, Villa Barr Art Park resident artist Abby Marchesseault will perform Heartstring Lullaby, a dance celebrating the life of Beth Dwaihy-Barr. Prior to becoming a park, Beth and her husband David lived on the property for more than 30 years. They planted the trees and gardens, tended to the pond, nurtured family, and worked in their studios - hers for dance and his for creating art, including sculpture that remains on the property. The event is open to the public, but RSVP is required via this link or by calling the office at 248.347.0400.
About Villa Barr
Villa Barr is a recent addition to the Parks, Recreation and Cultural Services Department of the City of Novi, Michigan. The four-acre property, previously owned by David Barr and dancer Beth Dwaihy Barr, includes a home, studio and multiple sculpture installations in a park setting. The home was designed by Chicago architect Laurence Booth to reflect David Barr's personal aesthetic, one that was "…germinated by constructivist principles of art, fascination with nature's innermost structural processes, and a belief in the promises of the American democratic experiment."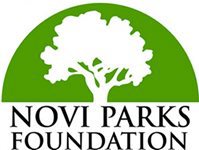 The intention of the park is to enhance art experiences in Novi whether by admiring the art installations or participating in a program at the site. Construction of a parking lot and pathway, along with amenities such as interpretive signage and respite areas, was completed in fall 2018. The project is funded in part by Novi Parks Foundation and a grant from the Michigan Council for the Arts and Cultural Affairs.
The David Barr Legacy Artist Residency program has been established in collaboration with Michigan Legacy Art Park, a sculpture park which was founded by Barr and is located on the grounds of Crystal Mountain, in Thompsonville. The Friends of Villa Barr was instrumental in developing this new artist-in-residence program. The Friends of Villa Barr is a group of friends and family of David and Beth Barr, as well as Novi community members and art experts.
A resident artist at Villa Barr will create a piece of work that may be donated or loaned to the City of Novi for up to five years. The artists may also lead tours, discussions or programs for the community.
The Novi Cultural Arts Advisory Board has been instrumental in guiding public art in Novi including the sculpture exhibit Fuerst Park, the Novi Civic Center Atrium Gallery and the placement of Barr's Fate of Empires at Pavilion Shore Park.
Before his passing, Barr authored a book titled Villa Barr which details the home, grounds and sculptures. The Novi Historical Commission sells the book through the Novi Public Library check-out desk for $20.

Villa Barr Art Park was awarded a Keep Michigan Beautiful Award in 2019 and additional grant funding in 2021. 
About David Barr
David Barr (1939-2015) was an American artist, writer and educator influential in the development of North American Structuralism, an offshoot of early 20th Century Constructionism. Throughout his prolific career, which spanned over 50 years, David Barr created works of art that expressed his personal creative philosophy which included the basic constructs of nature in combination with the constructive principles of art.
Barr's work can be divided into three categories including public or monumental sculptures, structuralist reliefs, and global conceptual art. They all share an aesthetic that seamlessly melds the arts and sciences drawing upon such disciplines as geometry, geography, music, human relationships, historical events, political consequences, and contemporary science.

 David Barr Mind & Steel


 Barr Legacy
Strategic Planning
Since its inception, Villa Barr Art Park has had numerous supporters who want to see it continue to evolve. Ideas for future programming, investments and marketing have been very broad. This strategic plan will serve as a roadmap for future programs, projects and investments. Input for the plan was provided by members of the Novi community, as well as friends and family of the Barrs and local artists.



Strategic Plan 2021


Strategic Plan Progress Report - August 2021


Strategic Plan Progress Report - August 2022