Villa Barr is located at 22600 Napier Rd. The four-acre park was previously owned by internationally famed artist David Barr. The property includes a home, studio, and sculpture garden. The intention of the park is to enhance art experiences in Novi whether by admiring the art instillations or participating in a program on site.
Atrium Art Exhibit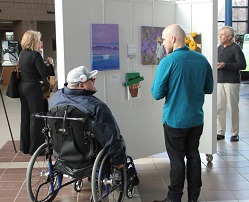 A public gallery is available for exploration at the Novi Civic Center Atrium. The gallery provides local artists the opportunity to display their work and share it with the community. Special exhibits are displayed throughout the year.

If you are interested in more information or purchasing artwork on display in the atrium, please call 248-347-0400. Find out more information on displaying your work.

The exhibit is available for viewing during regular business hours, Monday through Friday 8am to 5pm, with some exceptions. The exhibit is also open many evenings and weekends. Call 248-347-0400 for details.
Outdoor Sculpture Exhibit
The City of Novi strives to offer a variety of parks and green spaces for its residents to play, learn, and be inspired. Fuerst Park provides great opportunities to enjoy musical performances, gather with friends, or take a stroll across the rolling grounds. It has been an initiative of the Cultural Arts Advisory Board and the Novi Parks, Recreation and Cultural Services Department to enhance this great space with unique and inspirational public art pieces. For the past few years we have been working diligently on discovering new ways to fund these public art displays.

The City of Novi received a grant for the purpose of enhancing the 2017 Outdoor Sculpture Exhibit on the Novi Civic Center Campus. This grant was awarded by the Michigan Council for the Arts and Cultural Affairs (MCACA) and the National Endowment for the Arts (NEA), and the grant funding was matched by the Novi Parks Foundation. We encourage you to take some time and head out to the park to enjoy the art!