Sustainable Ways to Enjoy Novi Parks
Adapted from the National Park Foundation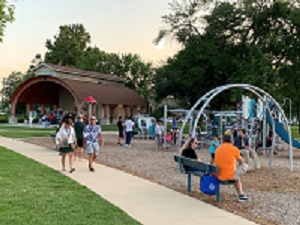 Each year, the United States generates about 260 million tons of trash – that's more than 4 pounds per person, per day. While approximately one quarter of this trash is recycled, the rest is burned or dumped in landfills.
Our Novi park system is not immune to these bad habits. For example, more than 300 million people visit the national parks each year, bringing in and generating millions of tons of trash. We may not have 300 million visitors to Novi's parks annually, but from plastic to food waste to discarded clothing, the waste brought into parks can pollute our most pristine wilderness and wildlife.

Together, we must all work to reduce our waste impact, while enjoying our remarkable Novi parks.


 Park Rules
Gather Together
There is nothing better than enjoying a picnic outdoors with family or friends. But the next time you lay out your blanket and pass the potato salad, think about the ways you can reduce the waste you leave behind.
Bring food in reusable containers and use washable napkins and tablecloths.
Ditch the plastic and invest in reusable straws, plates and cutlery that can be easily rinsed clean. About 30 percent of all trash in the U.S. comes just from product packaging, so try to reduce single-use packaged food products as much as possible.
Celebrating a special occasion in the park? Be creative with your gift-giving and consider sending an e-invite or e-card in lieu of additional paper products brought for the celebration.
Take a Hike
Hitting or cycling on a trail shouldn't mean hitting the landfill. You can make the most of your hike while keeping your waste impact low.
Stay hydrated, but leave the plastic water bottle at home and grab a re-fillable one instead.
Being well-nourished is just as important, so use reusable silicone snack bags on the trail.
Instead of paper maps, there's an app for that. If service is available, make use of online maps on Google or cityofnovi.org. No service? Many park maps can be downloaded or screenshot ahead of time and used offline.
When you finally reach the depths of a trail system, don't plan on finding a trash or recycling can. Always plan ahead and decide how you'll store any garbage until you've reached a proper disposal site.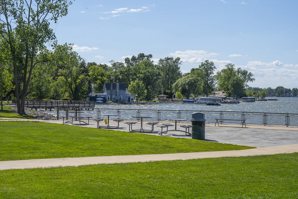 There are plenty of ways to make the most of your Novi park visit while taking thoughtful steps to reduce waste, and there's always more we can do. More and more recycling bins are being added to our park system to help keep trash out of landfills. Join us as we all seek to make our Novi parks cleaner, safer and healthier.


Nature. Nurture. Novi.
Want to learn more about the environment and what you can do from home? Our Nature. Nurture. Novi. program offers multiple free seminars to learn about home energy efficiency, pollinators, gardening, local wildlife, using sustainable products and more.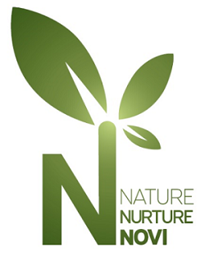 Environmental Issues and Resources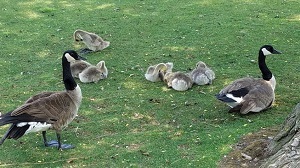 Have you been impacted by Canadian geese or coyotes and were unsure how to handle it? Or did you just have questions? Or have you wondered what sort of invasive plant species may be growing in the fauna of your backyard? Check out our resource page to find out more about these subjects and more, or to find other resources around the City, State and other environmental agencies.