The Support Services Division consists of the Communications Sections and the Records Section and Investigative Sections of our agency. The Communications Section receives incoming calls for service, dispatching police, fire and ambulance services for the City of Novi and other regional dispatch consortium members. The City of Novi provides emergency dispatch services for the entire City of Novi as well as for the City of South Lyon and Lyon Township.
Investigative Section
All Novi Police Detectives are assigned to specific geographical areas of the city as their area of responsibility. The detectives' assignments are based on the same patrol areas that the road patrol are assigned. The goal is for the area detectives to foster relationships with the residents, business leaders and community leaders throughout their district. This allows detectives to become more familiar with the problems that take place in the district by networking with the officers assigned to the same district.
In addition to the seven patrol districts, other responsibilities in the Investigative Section; Crime Prevention, SONIC, School Liaison, Task Force positions in the Drug Enforcement Administration (DEA), the Violent Crimes Task Force and Cyber-Fraud Task Force.
Novi Police Detectives regularly attend informational meetings throughout the community and metropolitan Detroit that cover intelligence dissemination, gang task forces, school liaisons and local youth forums.
Communications Unit
The Novi Regional 911 Center serves as the public safety answering point (PSAP), or 9-1-1 center, for the Cities of Novi and South Lyon. The service area is approximately 35 square miles serving an estimated resident population of 71,000. Public Safety agencies served by the 9-1-1 center include the Novi Police and Fire Departments and the South Lyon Police and Fire Departments.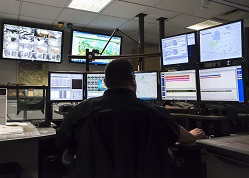 The Novi Regional 9-1-1 Center is a modern and well-equipped facility that is staffed by highly trained 9-1-1 personnel. Current staffing levels are 12 dispatchers, four shift leaders, and a manager.
It is the mission of the Novi Regional 9-1-1 Center to provide a fast and effective communications link between the citizens requesting public safety services and the public safety agencies charged with providing emergency and non-emergency services to those citizens.
911 Procedures
Let's look at how the 911 system works.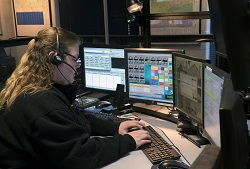 Wireless/Cell Phone calls to 9-1-1
When a 9-1-1 call is placed by a caller using a cell phone, it is routed to the nearest PSAP. The Dispatcher answering the call will receive both the caller's wireless phone number and their estimated location information. This location information is provided to the Dispatcher through latitude and longitude, so although they will know the approximate location, it is important for the caller to be ready to provide an exact location so that police and/or fire units can quickly be dispatched to render aid.

Landline calls to 9-1-1
When a 9-1-1 call is received from a landline, the address, phone number, and homeowners or business name will be displayed in the dispatch center. The Dispatcher will verify this information with the caller to ensure that it is correct, and depending on the assistance needed, will then dispatch the police, fire and/or EMS. If the 9-1-1 call is a medical emergency, the call will then be transferred to a private ambulance service for further instructions.
 
If a 9-1-1 call is placed in error, please stay on the line until the call is answered and tell the Dispatcher that you have misdialed. When a call is received and the caller has hung up, the Dispatcher will call back to determine if there is a problem, or send police and/or fire units depending on the circumstances. In the case of children that call 9-1-1, we will call back and ask to speak with an adult.

If you are a resident of Novi, and your home telephone service is provided by your cable company, please be sure to do an initial test call to 9-1-1. When the Dispatcher answers, make sure they know that the call is not an emergency, and that you are simply testing to ensure your call was received by the Novi Regional 9-1-1 Center. If your call is not received by the Novi Regional 9-1-1 Center, contact your cable company immediately to correct the problem.

Finally, if you possess an emergency only cell phone without service, please understand that although you can call 9-1-1 and speak with a Dispatcher, location services are not available. This means that it is imperative that you provide the Dispatcher with an exact location so that emergency responders can find you.
Public Safety Records
The Public Safety Records Section is staffed by five civilian employees, supervised by the Training and Standards Sergeant. The records section handle duties ranging from greeting citizens at the front desk, answering the business telephone lines, fingerprinting citizens for work, travel and other purposes and compiling official police and fire department records and statistics.
Hours of Operation:
Regular business hours for the records section are 8:00am to 5:00pm Monday through Friday (excluding holidays).
Obtain Reports:
Copies of your police, fire or accident reports can be obtained during regular business hours.

The Freedom of Information Act (FOIA) is the Federal law that provides access to public records, except for those protected from disclosure under the Act. To request records under this act, please complete the FOIA Request for Police and Fire Records form and return it the Novi Police Department or call the records section at 248-347-0510.

Citizens may purchase copies of accident reports online on the CLEMIS website (Oakland County's Courts and Law Enforcement Management Information System). All insurance companies must purchase accident reports through CLEMIS.

Handgun Purchase Permits/Registrations:
Handgun purchase permits should be made with the policing agency which has jurisdiction over your residency. If purchasing a handgun from a private individual, a purchase permit can be obtained from the records section during normal business hours. If you have purchased a handgun from a business or individual with a Federal Firearm License (FFL), the completed pistol sales record can be dropped off at the front desk 24 hours a day, 7 days a week.

It is no longer required to bring your weapon in for inspection.

Fingerprinting:
The Novi Police Department records section assists Novi residents with fingerprinting citizens for work, travel and other purposes. Fingerprinting is done during normal business hours.

Ink Fingerprints (up to three cards)
Novi Residents: $20.00

Livescan (electronic prints)
Novi residents: $74.00
Must have paperwork with an agency ID number on it.

Impounded Vehicles:
To claim your vehicle, you must bring proof of ownership (registration or title) and identification. Release forms can be obtained at the front desk 24 hours a day, 7 days a week.

Note: If the vehicle was impounded as a result of an arrest, a $20 fee will be imposed to release the vehicle.
Personal Protection Orders (PPO):
Personal Protection Orders (PPO) can be obtained from the County Circuit Court.

False Alarm Billing:
Novi Ordinance 22-36 prescribes penalty's for excessive false alarms per calendar year.  The penalty for excessing false alarms are:

First 2 false alarms occurring within a one year period - no penalty
Third false alarm occurring within a one year period - $50.00
Fourth false alarm occurring within a one year period - $75.00
Fifth false alarm occurring within a one year period - $100.00
Sixth and subsequent false alarms occurring within a one year period - $190.00

 
Criminal background checks:
Come into the office with a driver's license or state I.D. We will check to see if you've ever been arrested by Novi and will provide you with a letter stating the results. There is a $10 per person charge for this service. If you need a more extensive search, please contact the Michigan State Police.

If there is anything the Public Safety Records Section can help you with, please call 248-348-7100 or Lieutenant Jason Meier at 248-347-0511