Learn about the Community Emergency Response Team (CERT), and other Emergency Preparedness information in this section of our website. Some history of the multi-state blackout of 2003 can be found below as well as other helpful emergency preparedness links.
Warming / Cooling Centers
The City of Novi has designated three Warming / Cooling Centers that may be utilized during extreme cold and heat conditions. The locations, hours and contact information is listed below.

Meadowbrook Commons: 25075 Meadowbrook Rd, Novi, MI 48375 - Phone 248-347-0414
Hours: M-F 8am-5pm

Novi Public Library: 45255 W. Ten Mile, Novi, MI 48375 - Phone 248-349-0720
Hours: M-Th 10am-9pm, Fri-Sat 10am-6pm, Sun 12pm-6pm

Novi Civic Center: 45175 Ten Mile Rd., Novi, MI 48375 - Phone 248-347-0400
Hours: 8am-5pm

Don't Let a Disaster Catch You By Surprise
Community Emergency Response Team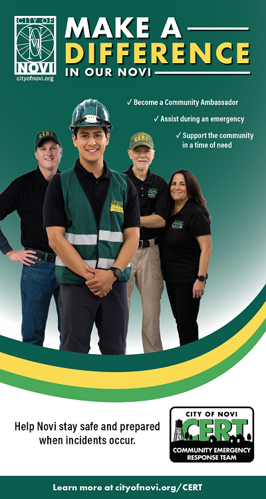 Give back to the City of Novi and learn how to help your family and others in a time of need by becoming a member of the Community Emergency Response Team (CERT). As a CERT volunteer you may be used for various assignments, which may include emergency deployment for local, county, state, or even national activation. In addition to these duties, team members will also act as an ambassador for the City of Novi.
CERT training takes about 20 hours to complete and provides critical skills in emergency preparedness and response. Volunteers are known and trusted resources to emergency responders and our community, helping year-round with community emergency plans, neighborhood exercises, preparedness outreach, fire safety education, and work place safety.
Situational Awareness in CERT Activities - June 2022

CERT Presentation - Situational Awareness
 
Medical Review - April 22, 2022

CERT Presentation - Medical Review
Cybersecurity - January 13, 2022

CERT Presentation - Cybersecurity
Animals in Disaster
The Animals in Disaster presentation focuses on what CERT members might run into regarding animals. First and foremost is human safety, however, people might not leave a residence if they cannot take their pets with them, or, if someone is injured, a pet may not allow a responder near its owner. The presentation also covers how to prepare a pet "go bag" before a resident might be required evacuate their residence.



Animals in Disaster Presentation - September 24, 2016

CERT Brochure



 Fundamentals of Leadership - Presented to the Emergency ResponseTeam - June 2021



Human Trafficking Presentation



Hands - Only CPR Presentation
Emergency Notification System

You can now register to receive emergency notifications on your cell phone and/or home landline. These notifications will include emergency situations that may impact individuals and businesses in the City of Novi. The City of Novi Emergency Notification System enables and empowers interested parties to be aware of significant incidents in the City of Novi. Currently the City of Novi has the ability to send this information to landlines, but by registering your cell phone online, you will be able to receive emergency notifications when you are away from your home.

Examples of Emergency Notifications include:
Chemical spills impacting public health
Active shooter situations causing an evacuation or Shelter-In-Place orders
Significant road closures such as highway closures or events that will significantly affect traffic flow
Closure or interruption in service to City of Novi operations
Additional notifications affecting the health and safety of City of Novi residents and / or businesses
Weather conditions such as watches and warnings or advisories will not be broadcast through the City of Novi Emergency Notification System
The online registration tool allows citizens to self-register their cell phone and/or home landline phone numbers on a secure website, entering their name and personal contact information with their own username and password.

Notifications of emergencies, disasters or hazardous situations which would require immediate action will be received as an incoming phone call, and will provide information through a computer generated voice message.

It is the responsibility of the registered individual to ensure their contact information is accurate and up-to-date.

The purpose of this service is to provide accurate and helpful information to citizens and businesses in the event of an emergency.