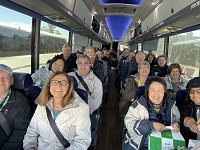 Group Travel opportunities, especially designed for adults 55+, are offered through the City of Novi's Older Adult Services. All trips are planned by local travel experts. Day trips, extended trips, and international trips are offered.  New travel opportunities are added regularly.
Reservation Information:
Once you have selected a trip, make your reservation at the Novi Civic Center or at the Meadowbrook Activity Center. Checks should be made payable to the travel company offering the trip.
Departure Information:
Arrive at least 20 minutes prior to departure. Most trips depart from the Novi Civic Center. Short term parking is available at the rear of the Novi Civic Center parking lot closest to the tennis courts.
Novi Group Travel Fair:
Travel Fairs take place twice a year. Travel agencies showcase their upcoming trips and answer questions. Travelers have the chance to hear interactive presentations about upcoming travel opportunities. 
2023 Travel Fair Dates:
Thursday, April 27 5:30pm - 7:30pm t the Novi Civic Center
Tuesday, October 10 1:30pm - 3:30pm at the Novi Civic Center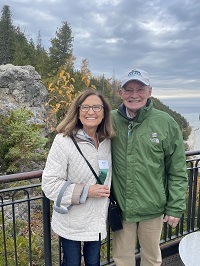 Featured Trip - 2023
October 17-20 - Mackinac Island: Grand Experience
 
Day Trips
October 2023
| File Name | Details |
| --- | --- |
| October 4 Soaring Eagle Casino | Download |
| October 18 - A Brand New Mystery Show - TBA - Meadowbrook Theatre | Download |
| October 25 - Halloween More In Romeo | Download |
| October 25 Firekeepers Casino | Download |
December 2023
| File Name | Details |
| --- | --- |
| December 6 - Starbright Christmas | Download |
| December 13 - Christmas & Holiday Traditions - Frederick Meijer Gardens | Download |
| December 15 - DSO Home for the Holidays | Download |
2024
| File Name | Details |
| --- | --- |
| January 24 - Father of the Bride - Meadow Brook Theatre | Download |
Extended Trips
September 2023
| File Name | Details |
| --- | --- |
| September 28-29 - Casino Overnight Norther Michigan | Download |
| September 30 - October 7 - Lake Placid, Adirondack Mountains and Vermont | Download |
October 2023
| File Name | Details |
| --- | --- |
| October 3-13 - Fall Colors of New England, Quebec and Montreal | Download |
| October 12-13 - Niagara Falls | Download |
| October 12-13 - Stratford Festival | Download |
| October 13-19 - Albuquerque Balloon Fiesta | Download |
| October 22-23 - Northern Casino Adventure | Download |
| October 25 - November 4 - Burgundy & Provence, France River Cruise | Download |
November 2023
| File Name | Details |
| --- | --- |
| November 27 - December 2 - A Lancaster Christmas | Download |
| November 1 - 9 - Treasures of Ireland | Download |
February 2024
| File Name | Details |
| --- | --- |
| February 7 - 15 - Colorful Costa Rica | Download |
May 2024
| File Name | Details |
| --- | --- |
| May 29 - June 5 - Iceland Explorer | Download |
June 2024
| File Name | Details |
| --- | --- |
| June 21 - 28 - Yellowstone & The Wild West | Download |
August 2024
| File Name | Details |
| --- | --- |
| August 14-21 - Canadian Rockies & Glacier National Park | Download |
September 2024
| File Name | Details |
| --- | --- |
| September 22-27 - Great Trains & Grand Canyons | Download |
October 2024
| File Name | Details |
| --- | --- |
| October 21-30 - Highlights of the Douro with Spain | Download |
December 2024
| File Name | Details |
| --- | --- |
| December 6-13 - Historic Savannah & Charleston Holiday | Download |