Recycling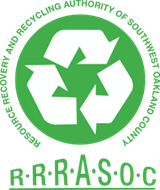 GFL Environmental will also be collecting recyclables at the same time. GFL Environmental will collect recycling from the recycling cart provided to each residence. Please place only recyclable items into this cart as they are delivered to sorting facilities and end-market recyclers. Novi's recycling partner is the Resource Recovery and Recycling Authority of Southwest Oakland County (RRRASOC). Visit the RRRASOC website for additional Curbside Recycling Information.
View the RRRASOC Library of Guidelines
Items Not Accepted

 

Liquid waste (gasoline & automobile oil)
Construction/roofing debris
Wet paint cans (let paint dry and place at curb with lid off)
Car and truck parts/engines/tires
Hazardous wastes
Yard waste mix with rubbish

Wood/dry wall
Concrete/bricks
Fencing/railroad ties
Tree stumps
Propane tanks
Loose needles/sharps
Batteries
Electronics

RRRASOC / Recycling Locations / Guidelines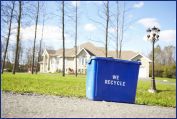 Novi is a partner in the Resource Recovery and Recycling Authority of Southern Oakland County (RRRASOC), along with other member communities of Farmington, Farmington Hills, Milford, Milford Township, South Lyon, Southfield, Walled Lake, and Wixom. There is a recycling drop-off site in Southfield, and one in Novi. The Novi Recycling Drop-off Site, which is (available to all RRRASOC communities,) is located off of Lee BeGole Drive, past the Department of Public Works (DPW). The drop-off site is open daily from dawn to dusk.

Recycling Locations / Accepted Items


Curbside Guidelines


Paint Disposal Guide
Recycling Guidelines
Additional Curbside Recycling Information
Sign up for the RRRASOC Event Notifications
RRRASOC Southfield Drop-Off Site
The Southfield Recycling Drop-Off Site is located in the parking lot of the RRRASOC Materials Recovery Facility (MRF) at 20000 W. Eight Mile Road at the northeast corner of Evergreen and Eight Mile roads. The site is available for use seven days per week, during daylight hours. Materials accepted at both the Southfield and Novi drop-off sites are the same as what is accepted for curbside recycling. The Southfield site does NOT accept Styrofoam or electronics.
Visit the RRRASOC website for more information.
Please note that Styrofoam, electronics, and motor oil are not accepted at the RRRASOC Novi Recycling Drop-off Site. Motor oil and electronic waste can be taken to any of the RRRASOC Household Hazardous Waste Days.
Styrofoam is accepted at the following sites:
SOCRRA
995 Coolidge Road, Troy
(Between 14 Mile Road and Maple Road, across from Meijer)
248-288-5150
Recycle Ann Arbor
2950 E. Ellsworth Road, Ann Arbor
734-971-7400
Recycle Here!
Main Location: 1331 Holden Avenue, Detroit 48202
313-871-4000
Motor oil can be disposed of at the following location in Novi:
Tommy's Tire, 43111 Grand River (East of Novi Road),248-348-2080
$3/quart - 5 quart limit
City of Novi Recycling Drop-Off Site
DPS Garage
26300 Lee Begole Drive, Novi
North off of 11 Mile Road between Town Center and Meadowbrook Roads
HOURS:
Open daylight hours, 7 days a week
Note: Polystyrene foam (ex: Styrofoam), household hazardous waste, and electronics are NOT accepted at this site.
Household Hazardous Waste
Novi residents and residents of the RRRASOC member communities can attend any RRRASOC Household Hazardous Waste (HHW) events. These events provide residents with an opportunity to safely discard or recycle hazardous items.
All HHW events are on Saturdays.
Electronic waste is also accepted by RRRASOC residents at all HHW events.
The mobile paper shredder is onsite at HHW events. Residents may bring up to 3 boxes or 100 pounds of paper for shredding to HHW events only.
Simple Recycling is accepted during certain collection events.
More information can be found on the Resource Recovery and Recycling Authority of Southwest Oakland County (RRRASOC) website or by calling 248-208-2270. Residents that cannot attend the listed events or otherwise need to get rid of some HHW in between events can contact RRRASOC or Environmental Recycling Group at 734-437-9650 to make an appointment to take the material to ERG's facility in Livonia (Merriman near I-96) at their convenience.



Household Hazardous Waste Flyer

Shredding Days - First Saturday every month - 9am-12pm
Corrigan Record Storage offers Novi residents the opportunity to recycle up to 300 pounds of paper for a $7 charge, NAID Certified Secured Shredding. The fee for more than 300 pounds is 10 cents per pound. Hard drive destruction is also available for a $5 fee or still in the tower for $10 and laptops are $15. Cash only is accepted on Community Shred Day.
Corrigan Record Storage
45200 Grand River Ave.
248-344-9185
Paper Shredder at RRRASOC
If you have personal documents waiting to be shredded, stop by our self-serve industrial paper shredder – FREE to use for all RRRASOC community members. You can find it inside the door near our drop-off containers, located at the following address:
20000 Eight Mile Road
Southfield, MI 48705
Hours of Operation
6:00am – 4:30pm
Monday thru Friday
Acceptable Items
Loose paper documents (staples are okay)
Stacks of paper up to ¼ inch thick
Unacceptable Items
Binders
Notebooks
Paper Clips
Binder Clips
Folders
Cardboard
Books
Magazines
CDs or DVDs
Credit Cards
Plastic Bags
The self-serve industrial paper shredder is for personal documents only - NO BUSINESSES
Don't Dump It! Recycle It!

The Abitibi Paper Retriever® program promotes recycling by placing drop-off containers at participating schools and non-profit organizations.
Locations
parking lot between Deerfield Elementary and Novi Middle School

Novi Public Library parking lot
These are community recycling bins, so we welcome the community to help us fill them.
Accepted
White copy and lined paper

colored copy paper

soft cover books

catalogs

magazines

newspaper

junk mail
There is no need to sort or separate them.
Not Accepted
phonebooks

cardboard

cereal boxes

tissue boxes

food cartons

chipboard

laminated paper

colored construction paper
Wood-Waste Recycling
Mid-Michigan Recycling (MMR) is government regulated and permitted to recycle wood waste materials.
Locations:
Livonia Yard
32700 Glendale Ave.
Livonia, MI 48150

Macomb Yard
24935 21 Mile Road
Macomb, MI 48042
Simple Recycling
Simple Recycling is a for-profit recycler that is committed to offering residents the most simple and easy way to keep usable materials from the landfill. All of the materials are graded and sorted locally and/or regionally based on quality and condition.
 
Residents must schedule their free home pickup here. Simply place your bags or boxes outside your front door and they will pick them up on your scheduled day. Orange bags are no longer required.
 
This service is being offered at no cost to residents. It also is not meant to dissuade donations to charitable organizations, rather provide an additional, convenient option to discard unwanted items instead of them ending up in landfills.
 
Recyclable items
| | | |
| --- | --- | --- |
| Men's Clothing | Women's Clothing | Children's Clothing |
| Coats and Jackets | Hats and Gloves | Fashion Accessories |
| Shoes | Purses | Hats |
| Toys | Blankets | Drapes/Curtains |
| Pillows | Sleeping Bags | Linens |
| Tools | Kitchenware | Dishes |
| Pots/Pans | Backpacks |   |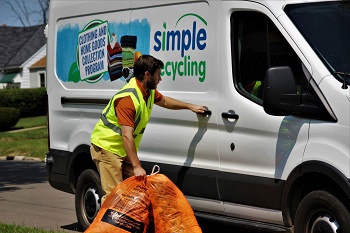 Simple Recycling is a for-profit organization, but free of charge to our residents. All materials collected are graded and sorted locally based on quality and condition. If you would prefer to donate items to charity, visit DonateStuff.com to schedule a pickup. Residents can request additional bags by visiting simplerecycling.com, calling 866.835.5068 or emailing info@simplerecycling.com


Simple Recycling Frequently Asked Questions

For additional questions, schedule a pick-up or missed pickup call 866.835.5068.