The Novi Fire Department was organized in 1929 and has been serving the Novi Community ever since. The City of Novi is committed to a combination Fire Department staffing system of full-time, paid-on–call, auxiliary, mutual aid, and contracted personnel to provide services. With 28 full-time and more than 70 part-time personnel, the Fire Department employs a cadre of highly trained and specialized staff with an enormous amount of expertise and talents. All members are required to meet and maintain minimum levels of training in fire suppression, hazardous material response, emergency driving, specialized rescue, and emergency medical services. All four fire stations located throughout the city are staffed seven days a week 24 hours a day.
 
Fire equipment includes; a 100' platform Tower, three custom engines, one tanker/ engine, one reserve engine, two transport squads, two rescues, two command vehicles, a rescue boat, Polaris UTV, and a technical rescue trailer. All apparatus are state licensed as Basic Life Support.;

The Fire Administration consists of the following personnel:
 
Erick Zinser - Director of Public Safety / Chief of Police
John B. Martin - Fire Chief
Kevin Pierce - Fire Marshal
Phillip Duczyminski - Training Officer

The Administrative team of the Novi Fire Department is prepared to assist you with any questions or concerns that you might have. Please do not hesitate to contact us if you need assistance.
Fire Operations and Suppression
Basic Emergency Medial Service
Training
Public Education
Plan Review
Fire Code Enforcement
Building and Apparatus Maintenance
Fire Hydrant Maintenance

Click here to view the Fire Department's Strategic Plan - 2022 - 2027

Make a selection from below.
Mission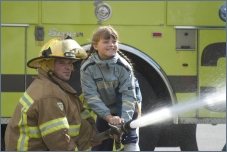 The Novi Fire Department shall strive to provide protection of life, property, and the environment from the effects of fire, medical emergencies, and hazards. We will engage the community in our mission through progressive community outreach and education in the areas of health, safety, and emergency preparedness all the while accomplishing this in a professional fashion which embodies respect, dignity, patience, and empathy for all.

VISION
Partners with our Community

VALUES
The Novi Fire Department takes pride in our commitment to delivering quality, professional service by maintaining our skills, knowledge and abilities. All members will conduct themselves in an ethical manner and treat each other and those we serve humanely, decently, and honestly. We subscribe to the following values:

Accountability – Members of the Novi Fire Department will be accountable to each other and the community we serve. We accept responsibility for our decisions and actions.

Excellence – Striving for constant improvement to better serve the community and one another.

Integrity – Always doing what is right even when it's difficult or unpopular so what we do individually and as an organization will stand up to public scrutiny.

Safety - The safety of our citizens and employees is a top priority of the Novi Fire Department. Every effort will be made to balance personal risk versus the value of life and property.

Valor – Courageously encountering adversity, accepting responsibility for ones actions, and providing respectful and professional conduct due the public and our members.

Dedication – Wholly committed to the mission and vision of our department. The faithful observance of duty beckons us to fulfill our obligations professionally and honestly.

Unity – Place a high importance on unity in the organization and individual contributions to the work group. It is essential that we pull together in routine and stressful times and support each other.

Fire Districts Map
Download the Fire Districts Map above. Depending on what device you are using to view this page, a clickable Fire Districts map may appear below.(Click on a district to send an email to the Captain.)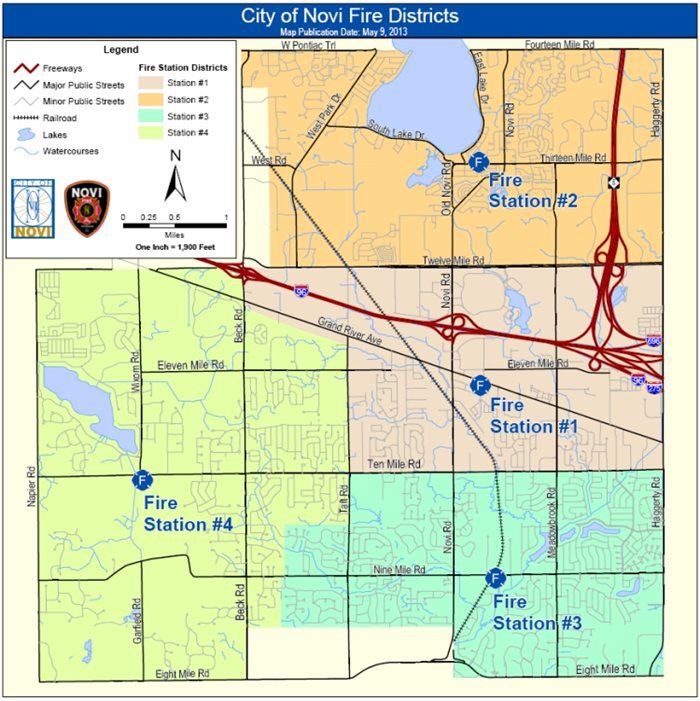 The Fire Prevention Division is responsible for the enforcement of the fire prevention code in all existing and  new buildings, plan reviews, hazardous materials reporting and citizen complaints regarding fire code violations.
The department utilizes a concept called "Company Inspections" for the inspection of existing businesses.  The Fire Protection Officers, who are cross-trained as fire inspectors, conduct fire safety inspections in each of the four response districts.  These inspections educate the business/building owners on how to maintain a fire safe business as well as educate the fire fighters on what is inside the business before a fire may occur.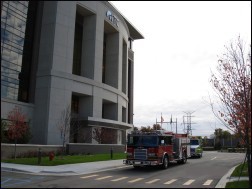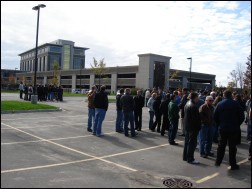 Emergency Medical Services
Fire Suppression
Miscellaneous Types of Assistance
Emergency Medical Services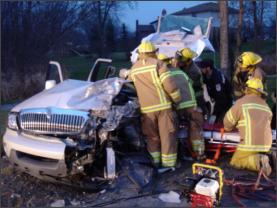 Transportation to the most appropriate medical facility is done by Superior Ambulance which provides three ambulances, by contract, for the City of Novi. In cases of multiple patients or impassable weather conditions, the Novi Fire Department has two state-licensed Basic Life Support (BLS) transporting vehicles.
 
Other communities provide Advanced Life Support (ALS) with Paramedics licensed after over 1200 hours of training.
Fire Suppression
The Novi Fire Department responds to many different types of fire emergencies and hazardous incidents. These include:
Automatic fire alarms
Smoke & odor investigations
Smoke detector activations
Trash, brush & grass fires
Vehicle fires
Garage & outbuilding fires
Structure fires
Miscellaneous Types of Assistance
Traditionally, many citizens rely upon the Fire Department for other types of assistance. These types of runs vary widely. To name a few:
A pet stuck under a backyard deck
A baby with their arm caught in a high chair
A person drove on top of a rock and couldn't move the car
A ring stuck on a finger
A hand caught in a garbage disposal
Baby ducks stuck in a manhole
A finger "crazy glued" to an eyelid
The odor of something unusual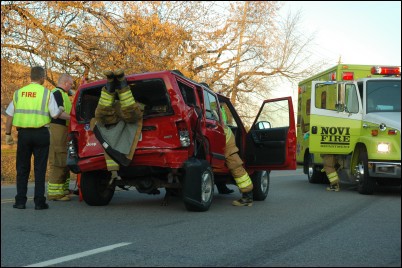 Novi Firefighters perform patient assessment and extrication
at an automobile accident on 10 Mile.
A hazardous material is any material capable of posing unreasonable risk to health, safety, and property.  A common sense approach, is that a material could be considered hazardous when it escapes its container and hurts or harms the thing it touches.  The more aware people become of hazardous materials, waste products and recyclable materials the more questions arise as to where these materials can be disposed of and recycled.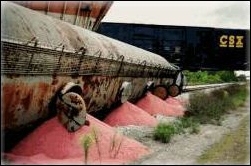 The City of Novi has addressed the recycling of paper, plastics, glass, and cans with the Recycling Center located at the Department of Public Works facility on Delwal Dr.  The problem of disposing of household hazardous chemicals has also been addressed with an annual Household Hazardous Waste Day.  In an effort to reduce the hazards and improve disposal methods, the table shown below gives examples on how and where to dispose of common household hazardous materials.
 
Material
Hazard Class
Disposal
Pesticides & Herbicides
Poisonous
Take to Household Hazardous Waste Day.
Wood preservatives
Poisonous & Flammable
Take to Household Hazardous Waste Day.
Empty pesticide container
Poisonous residue
Rinse container 3 times.  Use rinse water as full-strength pesticide.  Discard container in the trash.
Paints
Flammable
Use up leftover paint on other projects.

Latex paint: if only a small amount is left, open can and let liquid evaporate outdoors, away from children and pets.  Larger amounts can be dried out with the use of clay based cat litter and disposed of in the trash can. Please contact your disposal provider for more information.

Oil-Based paint: take oil-based paints and lead-based paints to collection site.
Used paint thinner
Flammable
Recycle by storing in a closed jar until particles settle.  Strain off the clear liquid for reuse.  Dry remaining sludge, wrap in plastic and discard in the trash.
Rust remover, turpentine, furniture stripper
Flammable
Take to Household Hazardous Waste Day.
Used motor oil
Combustible & Carcinogen
Take to Household Hazardous Waste Day.
Antifreeze
Poisonous & Flammable
Take to Household Hazardous Waste Day.  Don't pour antifreeze down drain
Gasoline (bad)
Flammable
Take to Household Hazardous Waste Day.
Car batteries
Corrosive
Trade in for new battery or take to Household Hazardous Waste Day.
Cleaners, drain openers,
oven & toilet bowl cleaners, bleach
Corrosive & Poisonous
Use up according to label directions or offer to others that can use them.  Dispose of small amounts by diluting with lots of water and pouring down drain.
Furniture polish, spot removers
Flammable
Use up according to label directions or offer to others that can use them.  Or take to Household Hazardous Waste Day.