Tree Maintenance

Street Tree Planting

Commemorative Tree Program
Tree Maintenance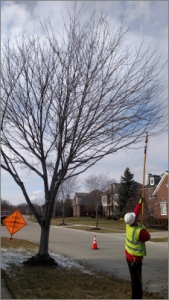 The City of Novi has established a tree maintenance program, which consists of the care and improvement of all trees on the public property. The goal is to prune each street tree once every five to seven years. Qualified personnel, led by the Forester, perform this work. There is no charge to the adjacent property owner. Since trees are living and growing organisms, problems may occur between pruning cycles. Individual requests can be made by the property owner then inspected by the Forester and scheduled for pruning, removal and replacement, etc.
All subdivisions are on a pruning schedule. A map laying out the schedule by year can be found here.
Street Tree Planting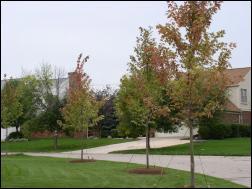 Click here for a list of recommended tree and shrub species selected for the Novi area.
The City of Novi has hundreds of trees and shrubs planted along roadways and in parks each year. Replacing street trees after removal and identifying new, beneficial planting sites helps keep Novi's urban forest growing.
Trees provide many benefits to our community. They shade our homes during the hot summer months and help keep our houses warm in the winter, provide screening protection, slow down harsh winds, provide food and shelter for wildlife, and create natural air filters. Studies have shown that street trees increase real estate value.
Property owners may plant on private property any time but may also plant street trees by obtaining a Street Tree Permit, free of charge, from the Forestry Section. The Forester will conduct an on-site inspection to determine where the trees can be placed, recommend species for the site, and issue the permit.
Placement of trees in the boulevard area must accommodate proper distance between tree species with minimum distance from: intersections, fire hydrants, streetlights, overhead and under-ground utilities, water service lines, mailboxes, street signs, and driveways. A list of acceptable tree species is available below.
Commemorative Tree Program
Click here for more information on the Commemorative Tree program.